Client Stories: Covell Los Angeles
---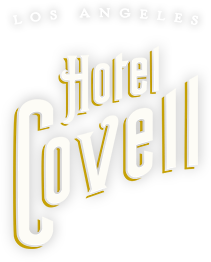 ---
After opening Bar Covell in 2010, Dustin Lancaster saw an opportunity to expand his business to the 5 apartments above the bar and transformed them into a unique luxury boutique accommodation.
Hotel Covell, a retro hideaway in Los Angeles' trendy Los Feliz neighbourhood, was later expanded to 9 design self-catering rooms.
Each room is called a "chapter" and is designed to tell it's own story, based on a story written by Lancaster and the designer Sally Breer. Their fictional character, George Covell, is a young writer from Oklahoma seeking his path in New York City. Every room is a testimony to his journey from the Sooner state to the Big Apple and his travels around the world.
---
Hotel Webiste & Booking Engine
Trusted by Hotel Covell since 2014.
---
"We wanted a digital partner that could reflect our uniqueness and style online. After looking at all the options in the market, GuestCentric stood out for its fantastic website design for boutique hotels such as ours.
Once we saw their technological capabilities, such as its powerful booking engine and channel management tools, we were sure that GuestCentric was the perfect fit por us."
Jenna DeRobbio, Hotel Manager of Hotel Covell Los Angeles
---
GuestCentric client since 2014.
---
---
Hermes Awards | WebAwards | W3 Awards | Interactive Media Awards | Stevie Awards | Adrian Awards | Summit Awards
---
Learn more about Hotel Covell at
---